Camping Glavotok Eco Story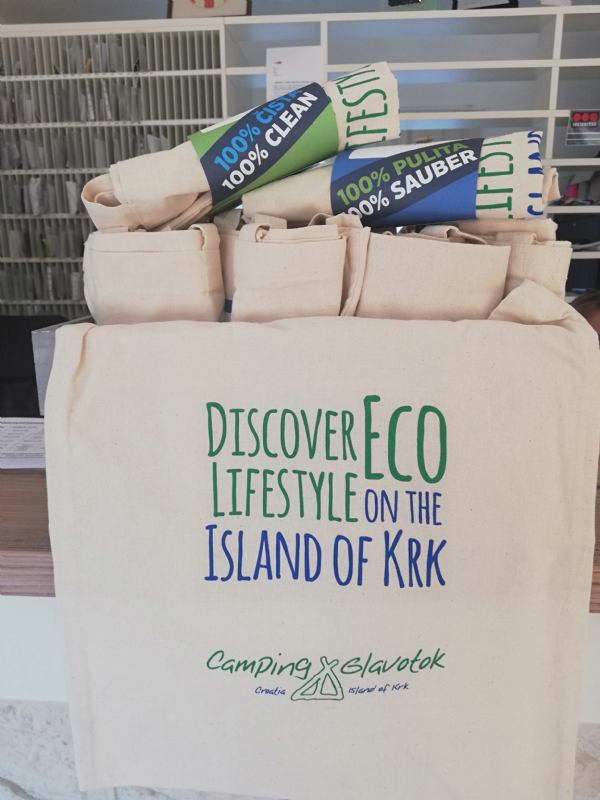 Welcome, dear guests!
Discover an eco-friendly lifestyle on the island of Krk! Join us in the initiative to save the animal and plant life.
Camp Glavotok and the island of Krk say NO to plastic bags!This environmental initiative comes at no cost to you! Join the initiative by the eco-conscious Glavotok camp and Krk island, where this wonderful environmental story begins, and where care for the future of the planet is an issue woven into the fabric of the collective consciousness.
In an effort to reduce waste that is damaging to the environment and animal life, we have prepared these canvas tote bags we would like you to use during your stay at the camp instead of harmful, non-degradable plastic bags.
You have received your canvas bag at check-in.
1. Please use it during your stay at Camp Glavotok and on the island of Krk.
2. Take your canvas bag with you as a souvenir from Krk and continue to use it at home.
3. If you don't want to take it with you, please return it to the reception desk before you check out.
Thank you for contributing to the conservation of nature. Your efforts have helped reduce a negative impact on the wildlife and set a series of good decisions and positive actions in motion.
Price of the canvas tote bag: HRK 15.